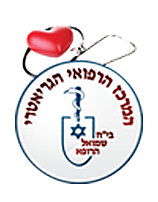 Shmuel Harofeh Hospital
Affiliated with the Sackler School of Medicine, Tel Aviv University

main page content
Skip main page content
Lungs - Tuberculosis Department
Reception Hours:

Patient Visitation Hours: 10:00-21:00

Doctors Reception Hours: 13:30-14:30

Head Nurse: 12:00-13:00

Contact Information

Telephone : 08-9258697

Fax : 08-9258627
• Hospitalization Ward consisting of 40 beds, of which 20 are dedicated to the treatment of patients with active
tuberculosis and 20 for a range of lung-related illnesses.
• Lungs Clinic providing expert advice with an evaluation of lung function.
• Lung rehabilitation providing a personal physical training program under medical supervision for lung patients.
Structure of the hospitalization ward
1. Side A
Side A is a unit of 20 beds for the treatment of lung diseases. The treatment is for severe illnesses and of respiratory recovery for patients requiring respiratory help following surgery, or other aggravated conditions. The treatment is given by a team of doctors and nurses who are experts in lung disease, and physiotherapists, who are experts in respiratory treatment. On termination of hospitalization, outpatient treatment and monitoring can continue in the lung clinic under the supervision of medical and nursing-care staff and continuation of lung rehabilitation.
2. Side B
Side B is a unit of 20 beds for the treatment of patients with active tuberculosis. This is the only national department in Israel for the treatment of active tuberculosis with the necessary equipment for the isolation of tuberculosis patients and which includes: a standard compliant ventilation system (negative air pressure) which filters out the microbes, and standard mobile installations of air filtration.
The ward receives tuberculosis patients who need to be hospitalized, of all ages from all parts of the country.
The Department specializes:
• In treatment of all types of tuberculosis, (such as resistant tuberculosis, non-pulmonary tuberculosis, and tuberculosis accompanying illnesses with depression of the immune system).
• In the diagnosis of lung-related diseases by more invasive methods (bronchoscopes, trans-bronchial biopsies, gouging, and plural biopsy).
• In the treatment of chronic lung disease such as COPD, Asthma, Bronkiektasis, and in interstitialis illnesses...
Structure of the Clinic:
• The clinic enables the making of a complete lung evaluation by means of an examination by a physician who is an expert in lung diseases, full lung functioning and diagnosis as necessary by bronchoscopes with flushing and biopsies under x-ray.
• Lung recovery with a range of training apparatus under medical supervision and physiotherapists.
The Ward Staff:
Treatment of the patient is by the multi-discipline staff working in conjunction and in constant coordination in order to provide an answer to the needs of the patients and their relatives.
We endeavor to create an environment that mobilizes the patient's resources in order to cope with the illness and that nurtures his desire for recovery and return to normal functioning.
The staff is committed to up to date professional know how coupled with concern and a personal approach.
The staff consists of the following personnel:

• Doctors who are specialists in lung diseases.
• Qualified college trained nurses who are also professionally trained in geriatrics.
• Nurses skilled in treating complex patients.
• Skilled auxiliary personnel (nursing assistant) who has undergone training and instruction in the treatment of a complex patient.
• Respiratory physiotherapists.
• Clinical dietician.
• Social worker.
Conditions for hospitalization in ward:

Hospitalization is in a ward in which there are 2-3 hospitalization beds in each room.
There are extensive public areas available outside the wards and seating shaded by pergolas. There is a lobby in the wards, and a dining room with secluded seating corners which enable the patients to meet with their families and friends in a comfortable and intimate environment.